Advanced Functions
(Registered versions only)
By registering Sudoku.xls for £4.99 you can can click on the  <![if !vml]>

<![endif]> and <![if !vml]>

<![endif]> buttons to get help on completing the grid.
The <![if !vml]>

<![endif]> button gives the absolute minimal help, adding just 1 number to the grid.
The<![if !vml]>

<![endif]> buttons allows you to set the "Number of Iterations"  from 1 to 20 to offer either some, or a lot, of help.
Setting "Number of Iterations"  to £€ (Pound sign Euro sign) just solves the puzzle – really cheating!
You can also set the number to **  (2 asterisks) and it will invoke the "Super Solver" function, but giving you the option to proceed or not.
This function will find the solution to almost all valid Sudoku Grids with a unique solution (I haven't found one it doesn't work for, yet. However, if anyone does, I'd be pleased to hear from them with details). Due to the way it operates, it will also find one solution for many non-unique grids. It won't (of course) find any solution for invalid grids.
The effects of clicking the SU DO KU button, with a single iteration, are shown below.
This is a typical puzzle with which you might start :
<![if !vml]>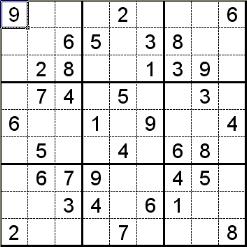 <![endif]>
After the first "SU DO KU" using a single iteration you get :
<![if !vml]>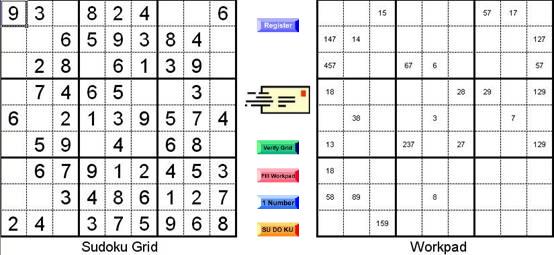 <![endif]>
In this case, following the second "SU DO KU" the puzzle is solved :
<![if !vml]>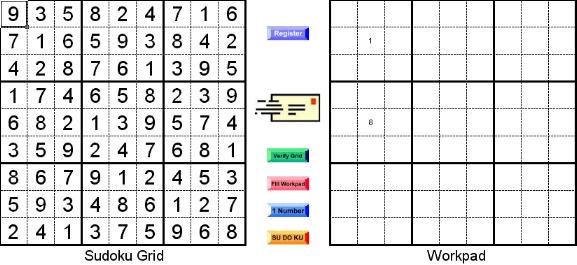 <![endif]>
Click Here to see how to solve a "Fiendish" puzzle.
Additionally there are some "Hidden Functions" available, to assist is solving more complicated puzzle.
Click here for details of the "Hidden Functions"
Click Here to Download your Free Sudoku.xls
Click Here register the advanced SU DO KU function